We are ISO certified (ISO 2016)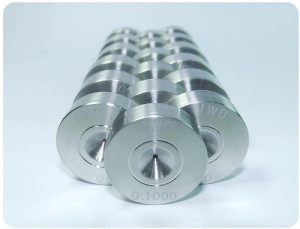 We offer Natural Diamond and PCD Blanks.
We can supply PCD SUMI/ PCD DI/ PCD SF-Diamond (Please see table)
IWD Bunching dies
High Quality Polishing
Exceptional Blending from entrance angle to back relief.
Conoptica report to ensure required profile.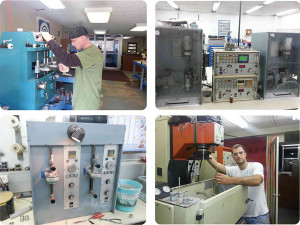 Drawing Dies ( Multi-Wire and Single Wire Machines)
High Quality Polishing
Elongation tested
Conoptica report to ensure required profile
Physical elongation test is done on all multi-wire machine dies starting at 0.023 to the finish die.
Each MW machine has a different draft, the %'s between the dies very important .
The wire should get the right elongation to meet the speed of the motor that run the capstans. Extra or less elongation can cause wire breaks.
Example:
Neihoff HM101: has 4 different drafts : 25 %, 19% ,13% and for the final capstan 7%.
At the section of the 25% , we will try to get 27% so the capstan will have 2% to absorb over the machine draft. The 19% will be 21% and the 13% will be 14%-15% elongation between the dies.
(D1/d2)^2-1= Elongation
D1= first die, d2= second die