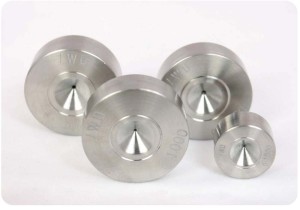 Natural Diamond (ND)
Sizes from 0.0006" (0.015 mm) to 0.300"(7.62 mm)
We provide high quality diamond stones for your dies. Unlimited quantities available. We are the ONLY supplier in the market that can get you diamond stones with a hole size 0.300″ (approximately 13MM) diameter.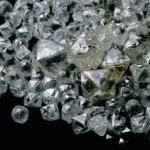 Polycrystalline Diamond (PCD)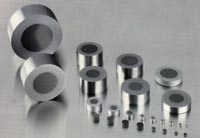 Quality PCD Dies using SF-Diamond Blank, Sumidia, & Diamond Innovative blanks.
PCD blanks are offered as Self Supported, Thermally Stable up to 1700 degrees Celsius and Carbide Supported. Sizes range from  0.00236″-0.594″ (0.06mm to 15.00)
We produce the above dies with your profile specifications or our own recommendations for your specific product. We can maintain your inventory by re-cutting and polishing your dies to a mirror-like surface.
We can provide a Conoptica report on all our dies.
Extrusion Tips
Superior quality products designed and tailored to your company's specific need!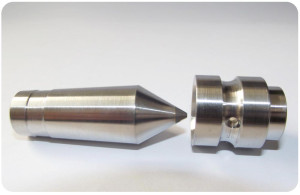 Wire drawing extrusion tips
Each custom manufactured extrusion tip is engineered with unique application expertise, to ensure proper wire centering.
 Also available with Carbide Insert
                                                                                                                                                                                                                                                                                                         Tungsten carbide: 0.020-0500in
  Tool steel: up to 1.0in or 25mm
  Applications: telecommunication and electronic cables
Cold Welding Material
We have both Hand Clamp Cold Welders and Desktop Cold Welding Machines
Sizes range from

 0.00236″-0.594″ (0.06mm to 15.00)
We have a variety of cold welding hand-held and table top machines, including a variety of 4 and 6 pin, single and double cavity dies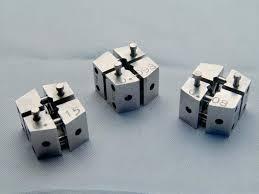 Desktop Cold Welding Machine